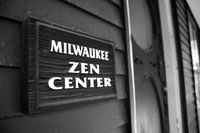 Donations
MZC is grateful for donations of funds or particular items listed below.
Contributions
Gifts of financial support may be made may be made by check, cash or online. They will be used to help defray MZC's general costs, unless specifically earmarked by the donor for a particular purpose. Donors may remain anonymous if they choose; please contact MZC's Treasurer for information about anonymous gifts.

Dharma Book Fund
Milwaukee Zen Center's Dharma Book Fund was established in October 2011 at the retirement of Tonen O'Connor as Resident Priest to honor her work with prison sanghas and her interest in issues of literacy. The fund makes dharma books available to those who cannot acquire them on their own. Gifts to the fund are gratefully accepted at any time, and may be made by check, cash or online.
Dharma Book Exchange
If you have dharma books that you no longer need, please donate them to MZC and we'll make them available to other practitioners. They may be added to our library or made available for purchase here in our center at affordable prices. You'll be recycling your books, spreading the dharma, and helping support our practice here at MZC.
Printer Cartridge Recycling
We'll be happy to take your used printer cartridges--any kind, any color. Office Depot will add $2 to our office supply account for each cartridge we bring in. Help preserve the environment, and underwrite one of MZC's expenses at the same time.