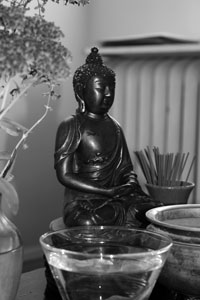 Introduction to Zazen
Sundays at 8:20 am
Wednesdays at 6:30 pm ten minutes of zazen instruction at the beginning of the sitting.

No preregistration required, no cost (donations welcome!)

Join us for a free, informal workshop for those who have some curiosity about Zen practice, those who have been reading and want to take the next step into actual practice, those who are experienced Zen practitioners new to Milwaukee, and students with papers to write.
Learn how to sit in the appropriate posture for zazen (seated meditation) on the cushion, kneeling supported by the cushion, or on a chair. Then try sitting for a period of zazen, simply maintaining upright posture and letting go of thoughts. You'll also learn our style of kinhin (slow walking) between periods of zazen.
In addition, we'll take a look at etiquette in the meditation space, the items found on the altar, and the role of the various bells and percussion implements within our practice. There's also time for your questions about the Zen Center and our schedule or about practice in general.